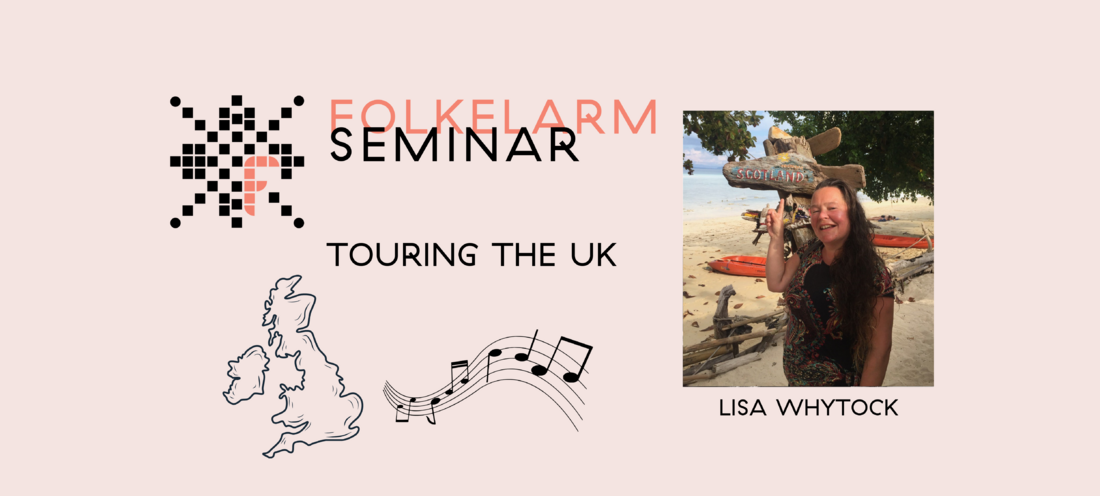 Scene: Klubbscenen
Dato: 24.11
Tid: 16.00 - 16.50

Touring the UK (ENG)
Lisa Whytock is an agent and event manager who has over 30 years' experience as a music agent. She has represented artists from Bob Geldof and Capercaillie, to Breabach and Elephant Sessions and has been responsible for their international live careers.
Based in Scotland, Lisa has vast knowledge of touring in the UK and today's seminar will provide an overview of folk festivals, venues and how to successfully grow an audience throughout Scotland, England, Wales, and Northern Ireland.
Find out about building your team and how to best create a fanbase that will last!
Lisa will open the seminar and then invite Donald Shaw and Tom Sherlock into a panel discussion about touring the UK.
Donald Shaw is an acclaimed Scottish musician, producer, festival director and award-winning composer. He is currently principal Creative Producer for Glasgow's Celtic Connections; the largest roots festival of its kind in the UK, with an annual audience of over 120,000. 
Tom Sherlock has worked as a full-time music business professional since 1982. Among the 
artists he worked closely with were The Chieftains, Altan, Liam O'Flynn, Lankum and Dreamers' Circus. Tom has wide experience of organizing tours in the USA, Canada, the UK, Ireland, Japan, China, Australia and has worked in most European countries.   
This seminar is in English

Turnere i Storbritannia (NO)
Lisa Whytock er en skotsk agent/manger som har over 30 års erfaring fra musikklivet. Hun har representert artister som Bob Geldof, Capercaillie, Breabach og Elephant Sessions. Hun har vært ansvarlig for deres live-karrierer internasjonalt.
Lisa er basert i Skottland og har enorm kunnskap om alle sider ved å turnere i Storbritannia. Dette seminaret vil gi deg en oversikt over folkfestivaler, klubber og hvordan man lykkes med å bygge publikum i Skottland, England, Wales og Nord-Irland.
Finn ut hvordan du bygger en fanbase som vil vare!
Lisa vil innlede seminaret, før hun inviterer skotske Donald Shaw og irske Tom Sherlock til en paneldebatt om temaet.
Donald Shaw er en anerkjent skotsk musiker, produsent, festivalsjef og prisvinnende komponist. Han er for tiden ansvarlig kreativ produsent for Glasgows Celtic Connections; den største roots/folk festivalen i sitt slag i Storbritannia, med et årlig publikum på over 120 000.
Tom Sherlock er en irsk manager og har jobbet med store artister som The Chieftains, Altan, Liam O'Flynn, Lankum og jobber nå med Dreamers' Circus. Sherlock har jobbet i musikkbransjen siden 1982 og har blant annet bred erfaring med å organisere turnéer i USA, Canada, Storbritannia, Irland, Japan, Kina, Australia og Europa.  
Dette seminaret er på engelsk.