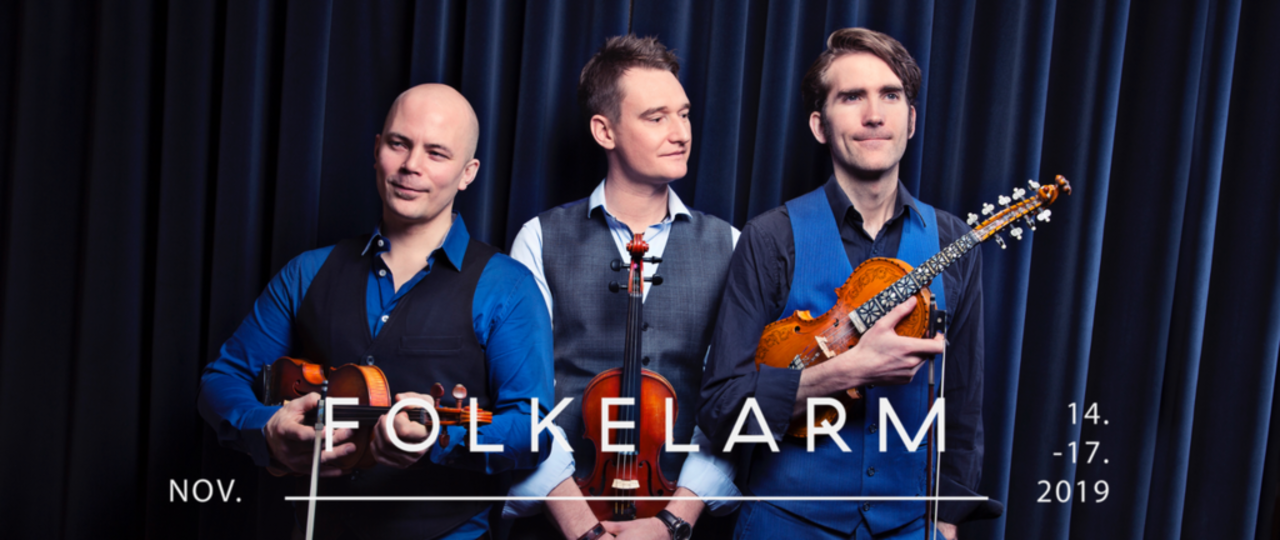 The Nordic Fiddlers Bloc
Showcase: Fredag og Lørdag
Showcase
Fredag kl. 19.50 - 20.15 - NRK FOLKLAB Klubbscenen
Fredag kl. 21.50 - 22.20 på Hovedcenen - Pulskonsert
Lørdag kl. 23.00 - 23.30 på Klubbscenen
The Nordic Fiddlers Bloc (NO)
The Nordic Fiddlers Bloc er en trio fra Norge, Sverige og Shetland. De er en av de mest aktive og ettertraktede gruppene på den nordiske folkemusikkscenen, og siden starten i 2009 har de turnert jevnlig i Europa og USA. Trioen består av tre av de mest fremstående felespillerne fra sine respektive land. Olav Luksengård Mjelva (NO), Anders Hall (SE) og Kevin Henderson (SI) skaper et eget, unikt lydbilde gjennom innovativ bruk av instrumentering, harmonier, teksturer og arrangementer. De har hittil lansert to kritikerroste album og jobber nå med det tredje som skal lanseres i 2020.
Gå ikke glipp av The Nordic Fiddlers Bloc!
The Nordic Fiddlers Bloc (ENG)
The Nordic Fiddlers Bloc is a trio from Norway, Sweden and the Shetland Islands. As one of the most active and sought-after groups in the Nordic folk music scene, their music has seen them tour regularly throughout Europe, and annually in North America, since their inception in 2009. Featuring three of the most prominent fiddle players from their respective traditions, Olav Luksengård Mjelva (NO), Anders Hall (SE) & Kevin Henderson (SI) combine to create a sound that is unique in every sense of the word through their clever use of instrumentation, harmony, textures and arrangements.
To date, they have released two albums, both to great critical acclaim and they are currently working on their eagerly awaited third album, due for release in 2020.
A band not to be missed!
---

The Nordic Fiddlers Bloc is:
Olav Luksengård Mjelva, Hardingfele / Oktavfele (Hardanger Fiddle & Octave Fiddle)
Anders Hall, Fele / Bratsj (Fiddle & Viola)
Kevin Henderson, Fele (Fiddle)
Contact:
Olav Luksengård Mjelva
nordicfiddlersbloc@gmail.com
+47 984 01 573
www.thenordicfiddlersbloc.com
Foto: Ingvil Skeie Ljones